how it works
Airtab®
Fuel Saver
Uniquely shaped plastic moulds which create two tight swirls of air that combine to reduce suction and drag.
Communication in multiple languages
Internal Engineering department
Long time expert knowledge
Celerity DRS offer a range of products which aim to improve the fuel consumption and reduce CO2 emissions for commercial vehicles, and one of the latest additions to the CDRS product line up is the Airtabs® drag reduction system which are readily available to all commercial fleets across Europe.
Airtabs® are uniquely shaped plastic moulds which create two tight swirls of air that combine to reduce the suction and drag at two key points on the vehicle: the tractor-trailer gap and the base area of any square-backed commercial vehicle.
Each Airtab® creates a series of vortices that combine to reduce the drag at the rear of vehicles traveling at speeds above approximately 35 mph or 55kmh. Not only does this reduce fuel consumption (on average between 3% and 5% as tested by Millbrook Proving Grounds and MIRA in the UK), but it also provides several safety benefits as well, including increased vehicle stability in high winds.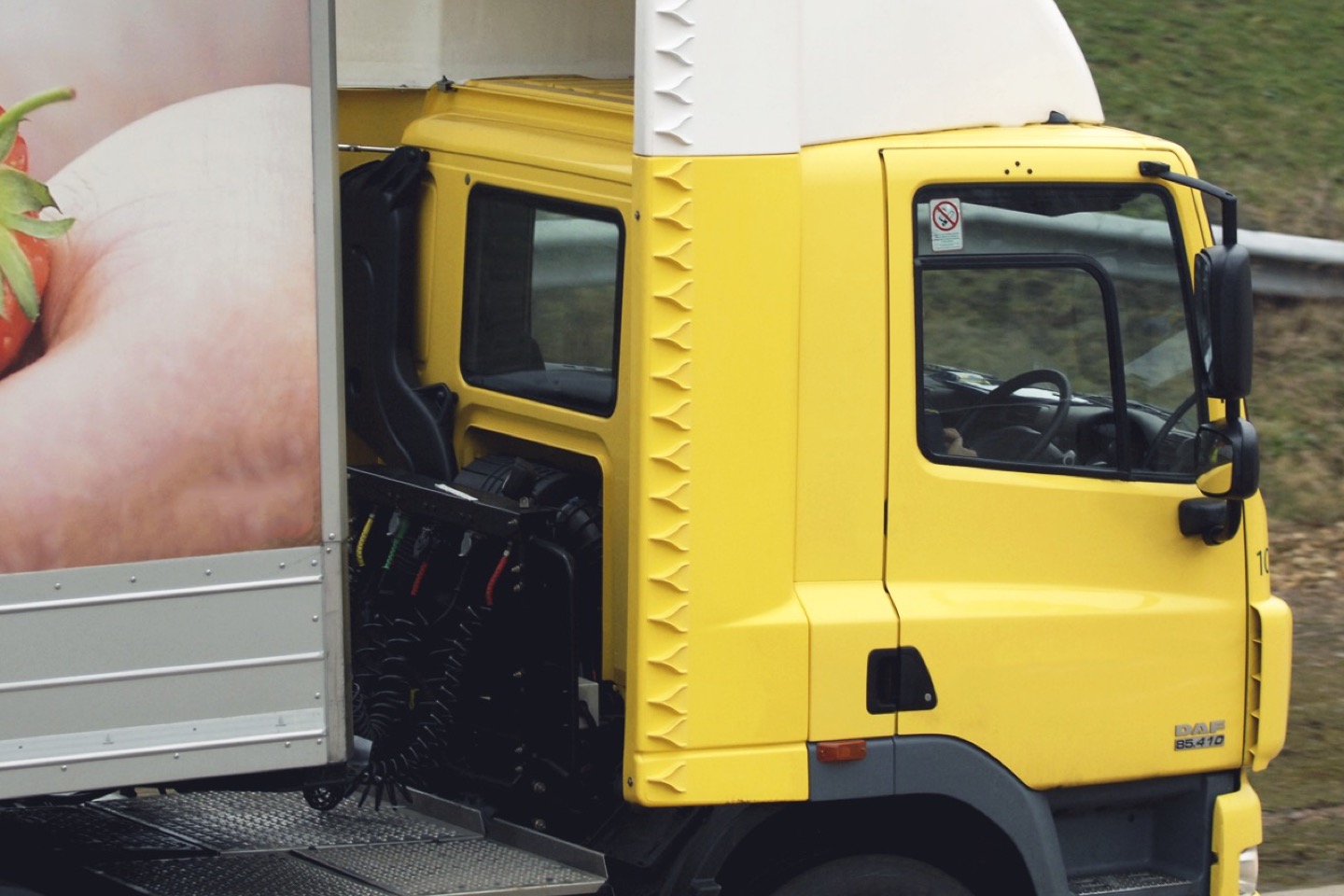 Airtab® fuel saver
Improving Safety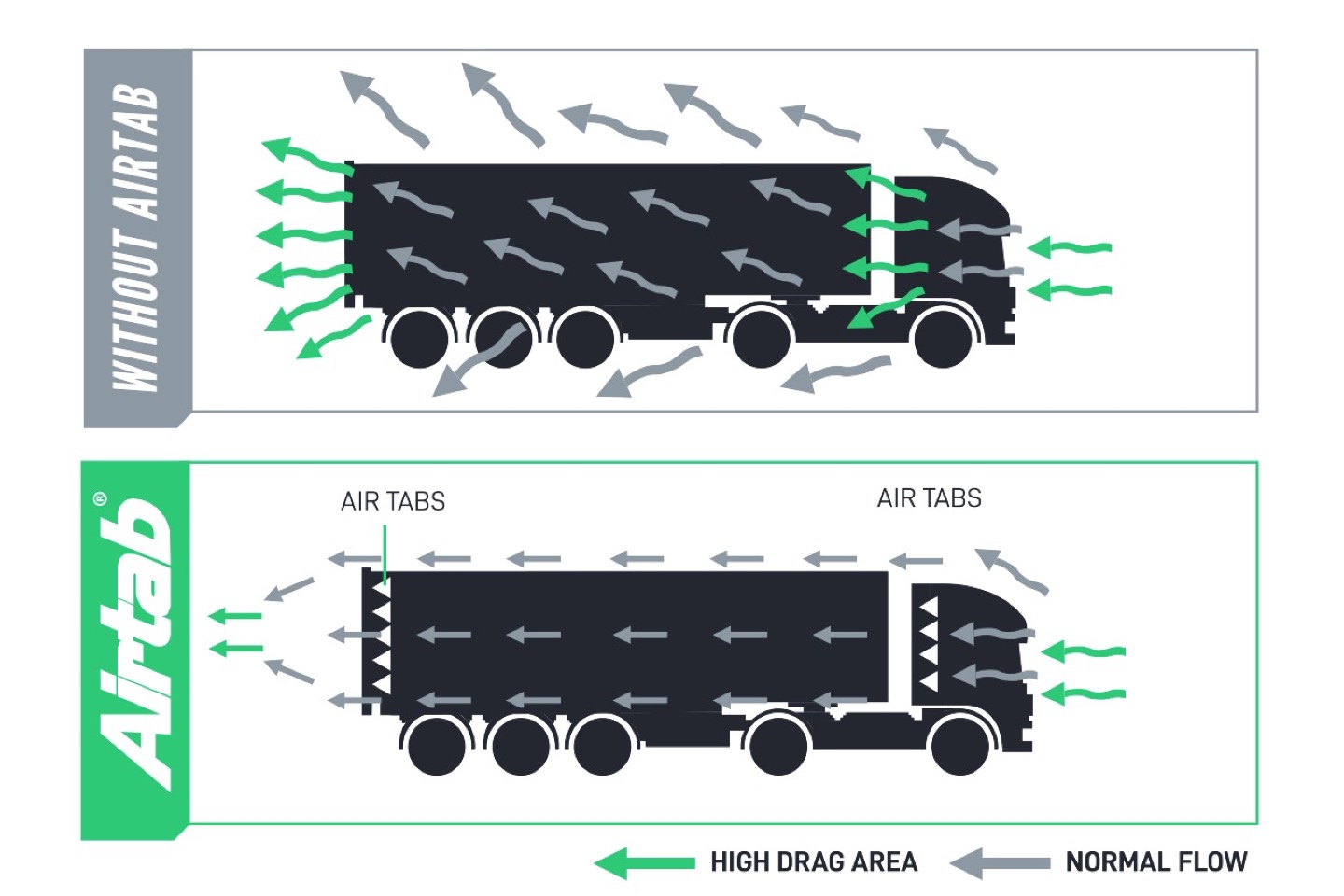 Airtabs® offer several safety benefits as well. They improve vehicle stability by altering the airflow at the vehicle's rear and the majority of users immediately notice the improved vehicle handling performance, especially in strong cross wind conditions or when passing (or being passed by) other vehicles. This increases driver safety by reducing wandering across the road and sudden adjacent lane changes.
Mirror visibility in rain or snow is also improved as the Airtabs® help suppress rain, snow and spray patterns and safety is improved through better mirror visibility which allows for safer lane changes as well as improving the visibility conditions for other road users.
By reducing the suction and aerodynamic drag at the rear of vehicles, snow and dirt from the roads is reduced. This helps to improve a business' corporate image and reduce cleaning time and expense. It also enhances safety by keeping conspicuity tape, tail and brake lights cleaner and helps the bottom line by reducing snow and weight build up in winter.
Get Airtab
Find a supplier
Get in touch for more information.
Happy customers
Testimonials
Greyroads of Oswestry
The PSI System maintains the correct tyre pressure on articulated trailers whilst stationary and on the move.
Greyroads of Oswestry
The PSI System has now been fitted to thousands of trailers across the UK and mainland Europe and has proven itself time and time again in substantially increasing trailer operating efficiency.
Kingswood Pallets
We have seen significant fuel benefits with the Tyre Inflation System fitted on our new trailer.
Maintenance Poids Lourds
My clients are up against tight deadlines and cannot afford to lose time on a blow-out. PSI provides them with a guarantee against this.
Nateval
Investment of the PSI system is very quickly profitable.
Pawtrans
I have a guarantee of constant pressure at the right level and without the need for periodic checks and replenishing this pressure periodically.
Transports Boyer
We have seen a reduction in tire blow-outs since we equipped our trailers with the PSI system
How Can We Help?
Get in touch
For further information about the Airtab® product and the production process, please get in touch or visit the Airtab® website.